The Men's Fall Fashion Issue of TIME Style & Design is on newsstands now. Here's a look at the new issue: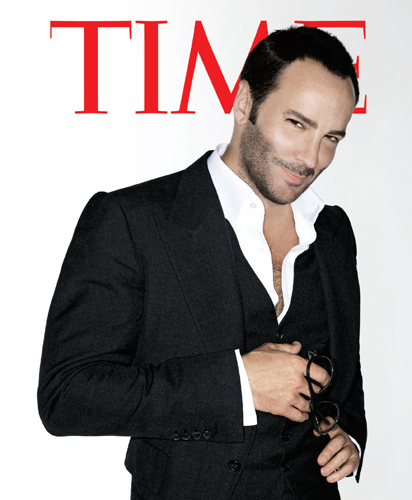 For the first-ever men's fashion edition of TIME Style & Design, editor Kate Betts brought together fashion icons Tom Ford and Karl Lagerfeld. Lagerfeld shot Ford for the cover and, afterwards, the two sat down with Betts for an exclusive conversation:
•Ford tells TIME Style & Design on possibly dressing Barack Obama: "Who would not want to dress Obama? I must say that I think he looks great already-simple, clean, understated and always appropriate."
•Ford on whom he'd like to dress: "I really have been fortunate enough to dress most of the people in the world that I have wanted to dress. I think that Prince Harry would be great to dress, as he has a great look."
•Lagerfeld on Ford's men's designs: "I suddenly liked the post-Italian updated modern look… For me, American fashion and the look of American elegance with an updated image is Tom."
Also in the TIME Style & Design October 2008 issue:
The Influences-and Futures-of Five of America's Up-and-Coming Menswear Designers:
Scott Sternberg, Adam Kimmel, Thom Browne, Michael Bastian and Taavo Somer.
TIME Style & Design's Josh Pattner profiles each of these five up-and-coming American menswear designers, writing, "A new generation of American menswear designers has emerged with a collective strength not seen in decades.
10 Questions: Burberry Designer Christopher Bailey Tells TIME, "I'm a Huge Apple Fan."
Burberry designer Christopher Bailey tells TIME Style & Design's Kate Betts, "I'm a huge Apple fan. There is such integrity with that brand. I love the consistency of its message." On what he'd do if he weren't designing: "Something I've always wanted to do is drystone-walling … It's an old craft, but it's a dying craft."
"Each Generation" Running Ermenegildo Zegna "Has Significantly Changed the Company"
TIME's Sarah Raper Larenaudie writes about the history of Italian fashion label Ermenegildo Zegna, which is still family run, "If many of the core values at Zegna come directly from the founder, each generation has significantly changed the company … For the current generation, the push has been to develop Zegna as a global brand. That includes opening more stores in emerging markets like India, Brazil and China . "These new consumers want to have fun with fashion," says Company CEO Gildo Zegna.