Pop icon and American Idol judge Paula Abdul wears celebrated Las Vegas designer Lana Fuchs.
Over 30 million people tuned in last night to watch American Idol , one of the most popular shows on American television. Judge, Grammy Award-Winning pop singer Paula Abdul appeared beautiful and glowing wearing Lana Fuchs Couture.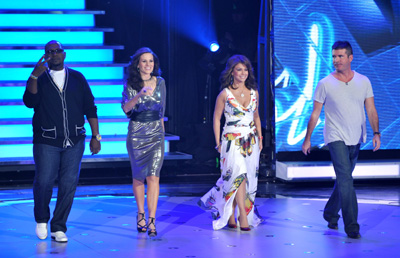 Lana Fuchs, CEO and designer for Las Vegas based Lana Fuchs Couture, says "I am honored that such a true fashion icon has chosen to wear one of my dresses, especially since American Idol is one of my favorite shows. It was definitely an Oh My God! Moment."
Paula Abdul looked absolutely gorgeous in Madam Butterfly silk chiffon (image above) hand pleated wrap dress from Spring/Summer 2009 collection entitled Rhapsody in Bloom. The collection premiered during Los Angeles Mercedes-Benz Fashion Week in October 2008 and has been widely recognized and featured in growing number of television programs, as well as national and international publications including Vogue, Harpers Bazaar, Marie Claire, In Touch, California Apparel News, Vegas, and 944.