Blessed & Cursed is a luxury denim company known for creating fashion that expresses individuality and originality. With Japanese fabric and Italian washes, Blessed & Cursed utilizes a specialised pattern technique ensuring the silhouette, as well as the fit, will give the body a slim elegant look. Women and men of all shapes will find in Blessed & Cursed jeans a new favorite.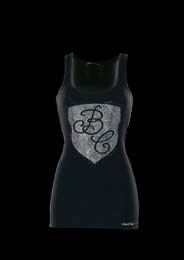 Celebrity Fans: Tom Cruise, Katie Holmes, Adrian Brody, Ashton Kutcher, Demi Moore, Mariah Carey, P.Diddy, Thomas Kretschmann, Michael Ballack, and many more.
Blessed & Cursed also offers accessories that can be teamed up with its jeans, such as leather and jeans jackets, vests, tanks, belts and other accessories.
Designer: Nicola Eibich