The CHANEL Metiers d'Art Collection 2009-2010 Paris-Shanghai
For some years, CHANEL has been ensuring the destinies and preservation of the skills of the Maisons d'Art: metal worker Desrues, feather maker Lemarié, embroiderer Lesage, shoemaker Massaro, milliner Michel, goldsmith Goossens and flower maker Guillet. Since 2002, Karl Lagerfeld has dedicated an annual collection to them, presented in exclusivity in a city that is part of, or is destined to leave its mark on, the history of the brand. In Shanghai on December 3rd, he unveiled his 8th edition of this collection, called "Paris Shanghai". Shanghai is a city in constant evolution, a cosmopolitan theater to an extraordinary cultural boom, and where CHANEL has recently inaugurated its third point of sale in continental China over an impressive 480m2.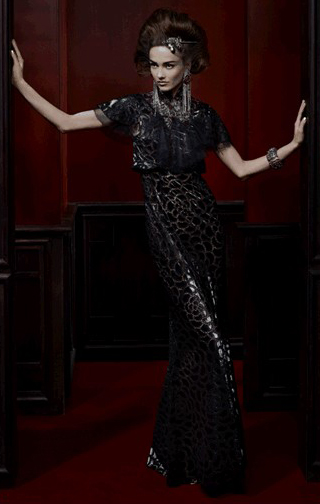 As a prelude to the show, the film "PARIS SHANGHAI, A FANTASY", written and directed by Karl Lagerfeld, tells the story of Coco Chanel's imagined voyage to China.
Continue reading CHANEL Metiers d'Art Collection 2009-2010 Paris-Shanghai