The CHANEL Metiers d'Art Collection 2009-2010 Paris-Shanghai
For some years, CHANEL has been ensuring the destinies and preservation of the skills of the Maisons d'Art: metal worker Desrues, feather maker Lemarié, embroiderer Lesage, shoemaker Massaro, milliner Michel, goldsmith Goossens and flower maker Guillet. Since 2002, Karl Lagerfeld has dedicated an annual collection to them, presented in exclusivity in a city that is part of, or is destined to leave its mark on, the history of the brand. In Shanghai on December 3rd, he unveiled his 8th edition of this collection, called "Paris Shanghai". Shanghai is a city in constant evolution, a cosmopolitan theater to an extraordinary cultural boom, and where CHANEL has recently inaugurated its third point of sale in continental China over an impressive 480m2.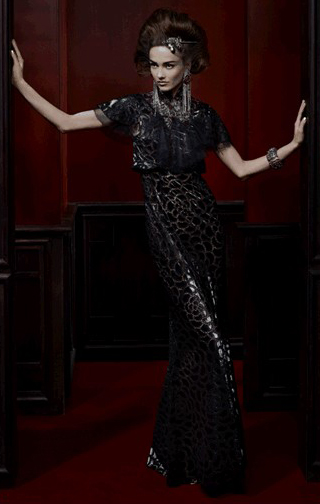 As a prelude to the show, the film "PARIS SHANGHAI, A FANTASY", written and directed by Karl Lagerfeld, tells the story of Coco Chanel's imagined voyage to China.
This collection brings together the expert skill of these Parisian artisans and the CHANEL ateliers to make a true French luxury. On an 85 meter long barge set on the Huangpu river bordering the Bund, more than thirty models have come from the four corners of the globe to bring Karl Lagerfeld's tableau to life.
With Shanghai's skyscrapers making a backdrop, Karl Lagerfeld revisits the Eastern Empire to give us his contemporary vision of CHANEL. One by one, his inspirations appear – the "Terracotta Army", the urban romanticism of Chinese cinema, the glittering chic of the 1930s and the opulence of the imperial court. The slim sleeves hint at the shape of pagodas, the waist is small and slightly structured, the ruffles build up over one another. In black, red, khaki and midnight blue, the high-collared suits, richly embroidered fitted coats, knitwear with raised patterns and tunics inspired by the traditional Mandarin Qipao gown give structure to shoulders and slim the waist.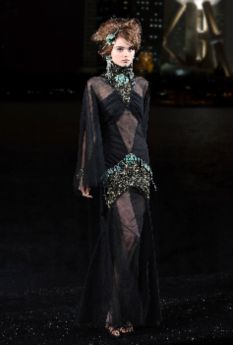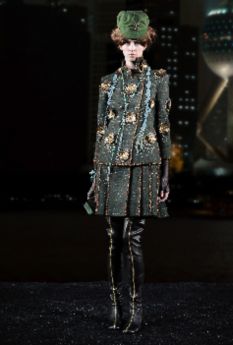 Accessories have not been forgotten. Long earrings and large pointed hats frame the face. Necklaces, brooches and cuff bracelets abound, bringing together pearls, coins and stones with opulence. On feet we see delicate ballerina flats with a strap and aged cork sole, leather boots and others in embroidered felt reaching the thigh, and precious sandals with sculpted heels. Bags, whether embroidered, sequined, in lambskin or in satin, are reinvented in a multitude of colors to create a fantasy.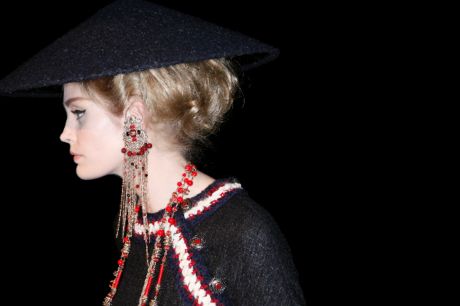 Among the 800 guests were Vanessa Paradis, who flew in especially from Los Angeles, young actresses from the Asian scene, CHANEL ambassadress Anna Mouglalis, and all the star power that Shanghai offers with its influential people, celebrities and artists.

Zhou Xun and Vanessa Paradis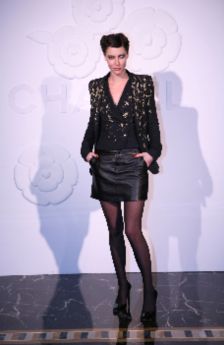 CHANEL ambassadress Anna Mouglalis
A fusion of East and West, the "Paris Shanghai" collection is when Karl brings Coco's dream to life.
PARIS-SHANGHAI DECOR FACTS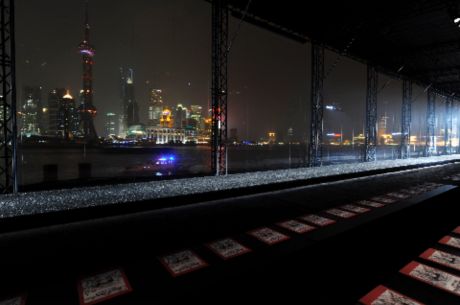 – Preparation of the barge and construction of the show structure: 30 days of work involving 150 people.
– Barge: 85 meters long, 32 meters wide, 6.5 meters high, 500 tons, and able to hold 5600 tons.
– Structure: 6 meters high, tarpaulin roof stretched over black metal spotlight structures, 1800 square meters of tarpaulin.
– Total height: 12.5 meters.
– Interior, exterior and seats in matte black. On each end of the runway, two spotlight structures holding, in total, 180 projectors.
– Barge towed by three tugboats anchored in the Huangpu river, the location of the show; 50 minutes of navigation from the barge's original location.
– 8 people were in constant surveillance of the anchors to ensure the barge didn't move due the tides; the water level can increase or decrease by 3.3 meters.
– 5 video screens, each 4m x 4m in size, for Karl Lagerfeld's film, which then rise to reveal a panoramic view of the Pudong skyscrapers through a PVC crystal window 70 meters long by 6 meters high.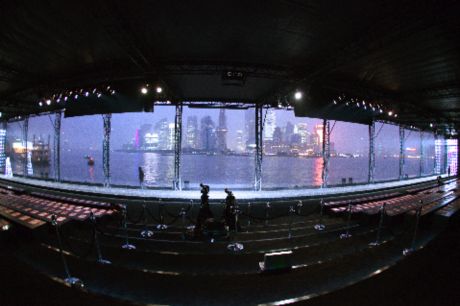 – Access to the barge through a peninsula bridge adorned with white, yellow and orange pansies.
– 28 models brought from Paris and 3 from Shanghai
– 13 hairstylists
– 8 makeup artists brought from Paris and 15 from Shanghai
– 6 manicurists, all from Shanghai
-The show welcomed more than 1000 guests.