I'm so excited to share with you my interview with Daymond John founder of FUBU and star of ABC's The Shark Tank. As a New Yorker myself the name FUBU rings many bells but mostly Mr. Daymond John and FUBU are a success story that inspired Marta all these years.

Daymond John
A success story, an industry leader, a young entrepreneur, a man who has reached and surpassed new heights of commercial and financial success – just a fraction of classifications used to describe Daymond John. Over the last 18 years, Daymond has evolved into one of the most successful fashion icons in business today. Known as the "Godfather of Urban Fashion," Daymond is also regarded one of the most sought after branding experts and motivational speakers in the country. Having graduated from waiting tables at Red Lobster to being the CEO of a multi-million dollar enterprise, complete with sky rise offices in the Empire State Building, Daymond John is living "the American Dream."'
In this interview Daymond John talks to Marta Walsh about his beginnings in fashion. What made FUBU take off. His passion for inspiring others and giving back. His encounter with President Barack Obama. Why did he decide to join ABC's Shark Tank. Gives advice to aspiring entrepreneurs. Describes his personal style, philosophy about beauty, and talks future plans.
Marta Walsh: When did your fascination with fashion and style begin?
Daymond John: It goes as far back as when I was 5 or 6 years old. I used to watch my mother put patterns of clothes on the floor and I helped her cut them with scissors and sew them all together. My own interest for fashion and style grew when I was 13 and around the time when Hip Hop began to emerge in Brooklyn, Queens, the Bronx, and New York. The new music genre also translated into a change in how people used to dress on the street, and that was very inspiring to me.
MW: How did your passion for fashion turned into a business? How was your urban fashion line FUBU born? What made it take off?
DJ: I was lucky enough to grow up around musicians LL Cool J and RUN D.M.C. I became their roadie and travelled with them on their tours. This way I was also able to sell my clothes in Philadelphia and Detroit and making money off it. This was probably my first venture in making money out of fashion.
What made FUBU take off is the frustration in the market for the African American people. FUBU was more affordable and as equally fashionable as other existing fashion brands at the time. FUBU stands for "For Us By Us" and that message touched the Hip Hop community, African Americans, and New Yorkers. It brought a sense of empowerment to these people.
MW: What compelled you to also to become a motivational speaker and to write your book: Display of Power? Who inspired you along the way?
DJ: What compels me to become a motivational speaker and to inspire other people is my desire to give back to people. You can give back monetarily but there is no comparison to the sense of fulfillment you get when you inspire someone spiritually and seeing a change in them. When FUBU came out so many people walked up to me on the street and said to me that FUBU has changed their life. FUBU meant to people a whole new era where the whole concept of African Americans as business owners was finally acceptable and possible. And that's very rewarding to me.
Some of the people that inspire me are my mother, Muhammad Ali, Gandhi, and Nelson Mandela.
MW: Tell us about your encounter with Barack Obama?
DJ: Barack Obama mentioned "For Us By Us" in one of his speeches and I had the honor of meeting him. When I met Mr. Obama we were in a big room, he told me: "Wow one of the greatest entrepreneurs of our time!" When he said that I looked around the room, I didn't know he was talking about me at first. That moment with President Barack Obama was one the biggest highlights of my life.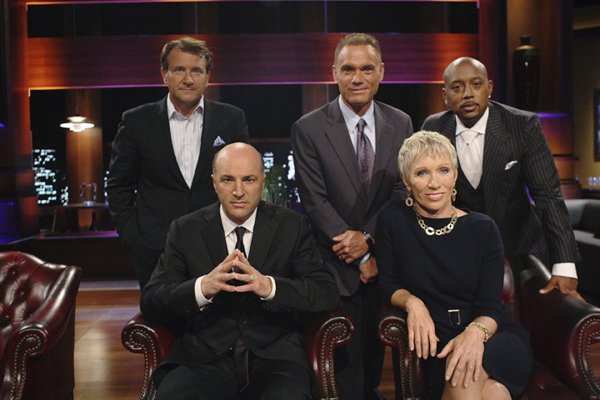 Cast of ABC's Shark Tank from top left: Robert Herjavec, Kevin Harrington, Daymond John,
Kevin O'Leary, and Barbara Corcoran
MW: Why did you decide to join the cast on ABC's The Shark Tank?
DJ: I declined Shark Tank at first, I didn't think it was a good opportunity for me because I had to spend my own money and I didn't feel the need to add more businesses to my portfolio. But the main reason I did ended up joining the shark Tank cast is because I liked the format of the show and it was a Mark Burnett production.
MW: What's it like to be in a room full of 'sharks'?
DJ: I generally surround myself with successful people so that's not an issue for me being around all sharks. We all respect each other. We are all at the same level with regards to understating business but there is still the feeling of 'don't get in my way'.
MW: What are some of the business you've invested through Shark Tank and what are they up to today?
DJ: I've invested with Tod's Pies who was in one of Shark Tank's first shows. He is a great guy and a happy baker out of New Jersey. So far we got him on QVC and we sold a whole a lot of pies. That was 3 months ago and it wasn't even a holiday season. He was scheduled to appear on the Today Show. Tod's Pies revenues increased by 500%. There are few more businesses I've invested on the show which you will all get to watch when ABC's Shark Tank returns Friday January 8th, 2010.
MW: What does it take to become a successful entrepreneur? What advice can you give to anyone who is interested in creating their own brand or business?
DJ: You are your own brand since the day you were born and it all depends on what mark do you and your behavior leave on people. The choices that you make everyday are going to stay with you. This translates to business as well. The brand is you first. The first thing you need to know about your business is to be honest with yourself if you really have a viable business. Don't test it with friends test it with total strangers. If nobody buys it, you don't have anything. Then if you decide to go with your business you need to learn the business from the bottom up, every single aspect of it.
MW: How would you describe your own style? Where do you get your style inspiration?
DJ: My style is traditional with a subtle flair. I make some of the things that I wear. I'm not overly flashy when you see me, but if you look closely you would notice some of the attributes, the touches, and finesse of my personal style.
MW: What is your favorite: city, restaurant, movie, car, and drink?
DJ: My favorite city is Miami, I love the good weather. My favorite restaurant is Nobu. There are so many movies and cars that I love it's difficult to pick. My favorite drink is Vodka Tonic.
MW: What is your philosophy about beauty?
DJ: Beauty is some physical attributes but the thing I like the most is attitude and energy.
MW: What one thing one people may not know about Daymond John?
DJ: Some people may not know that I'm a big green/nature kind of guy, I love fishing and the outdoors.
MW: What's next for Daymond John?
DJ: For the next year I see the FUBU brand slowly coming back to the United States as it's been mainly overseas for the past 8 years. So that's the next year for FUBU, and for the next year for me I'll be concentrating on Shark Tank and my new book I have coming out in February 2010. I think I'm going to call the book 'The Brand Within'. I'll be discussing building a brand and sharing the branding knowledge I have. I have a branding business where I advise other CEO's on building their brand, how to penetrate the market or change things with their brand.
I would like to thank Daymond John for his time and brilliant interview.
Visit www.daymondjohn.com to learn more about Daymond. You can also follow him aka TheSharkDaymond on Twitter.
Visit ABC's Shark Tank official website to learn about the cast, guests, and show schedules.