This is How to instantly save your summer outfit with Miss Oops:
Summers styles mean less fabric and more potential for oops moments, from indecent exposure in a strapless dress to tacky panty lines in short-shorts. Whether you're walking the red carpet or the city streets this summer, Miss Oops has fashion solutions that stop oops incidents in their tracks:
Miss Oops Mishap Tape ($6.99)-Gaping blouses, loose straps, screwy hemlines, puckered pockets, flapping belts-whatever your mishap, Miss Oops! Mishap Tape has got you covered. This stretchy double-sided apparel tape is unlike any other, as it actually moves with your body and your clothes. Mishap Tape is made with hypo-allergenic adhesive, so fabric gently sticks to skin or other fabric. Mishap Tape comes in 2 sizes, 36 strips to a box.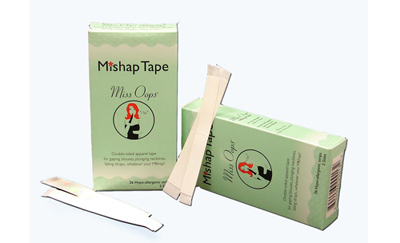 Nundies($15.00)-This disposable panty-less panty adheres to the inside inseam of pants when undies aren't an option. The perfect fashion solution for women who want to go bare-down-there without the discomfort of itchy clothing, Nundies make unsightly panty lines and uncomfy thongs a thing of the past. Available in Buff, Black and Assorted.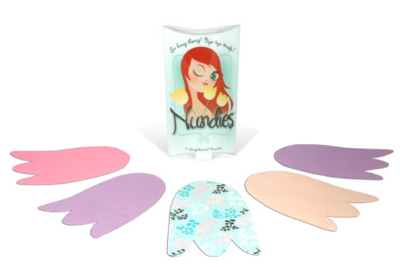 Entrepreneur and mother of two Jennifer Higginscreated Miss Oops! to instantly take care of life's little problems and make room to tackle the big ones. The original "Miss Oops," Jennifer hatched the idea for her innovative brand when she observed a creative way of removing a deodorant mark and translated the method into her revolutionary Rescue Sponge. The quick fix got organizationally-challenged Jennifer thinking about other ways to simplify everyday life. Every product in the line is designed to be a quick fix for busy women, from moms-to-be who don't want their bellybuttons showing through their tops to businesswomen who need an instant panty-line solution.