Vera Wang introduces youthful charm and romance through hand-painted tulles and silks. This week's featured wedding dress, Didi, showcases innovative design techniques from Vera Wang. Vera offers her insights on the design inspiration behind Didi.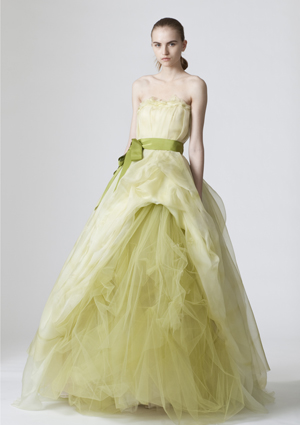 INSPIRATION: The Didi embraces color for its fresh interpretation of modernity and romance in wedding fashion. In particular, Didi's unique design is showcased in citrus, a core color of this collection's palette. This color – and this wedding dress – can be described as nothing less than vivacious.
Didi illustrates an important technique in the use of color: hand-painting. The full skirt is a combination of hand-painted organza and tulle that tumble from the structured, pleated bodice into artful deconstruction. You will see this frothiness throughout the collection, along with a very specific delicate lightness that is created through the layering of fabrics rather than crinolines (stiff petticoats under the skirt).
The pleats on the Didi's bodice are particularly dramatic at the back of the wedding dress (see image below).
Didi captures artistry, which is another common thread in Vera Wang's recent collections, along with whimsy and charm. These themes are soft, but not antiquated. The crispness of the design technique and the use of color establish the modernity of these wedding dresses.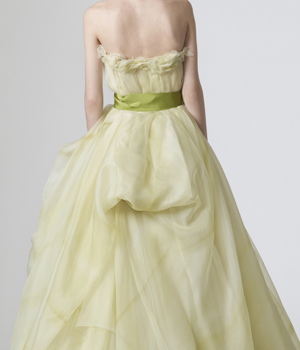 Keep in mind, Vera Wang wedding dresses shown in color are also available in traditional white and ivory; contact one of their wedding consultants for more detail or visit www.verawangonweddings.com