On behalf of Smithsonian Channel, Style Interviews is excited to share with you new video footage from the press conference for the Hope Diamond winning design, Embracing Hope.

Hope Diamond Winning Design Embracing Hope is featured in www.misslush.com
The vote is in! To mark the 50th anniversary of the world's most famous diamond being donated to the Smithsonian Institution, Smithsonian Channel invited the American public to cast their vote on a new commemorative setting for the Hope Diamond, from three designs created by Harry Winston Inc. Now, with over 100,000 total votes being cast over the last month on smithsonianchannel.com, the winning setting has been chosen and was revealed September 23, 2009, at the Smithsonian's National History Museum today in Washington, D.C.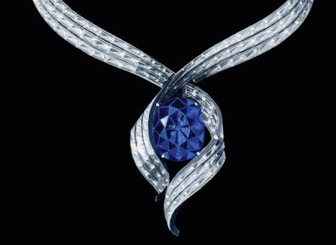 The diamond will remain on display in its natural form with no setting at all, in the Smithsonian Museum's Winston Gallery in the Hall of Geology, Gems and Minerals until April 2010, when it will be being displayed in its new setting.
The unveiling of the diamond in its new temporary setting next spring will coincide with the premiere of Smithsonian Channel's "Mystery of the Hope Diamond" documentary-a high-definition film about the full story of the diamond, from its birth to its mysterious journey through Europe and to its final home at the Smithsonian.