Maggie Barry Co. proudly presents her new Spring/Summer 2009 collection. The event, staged within the walls of the historic Globe Theater located in Downtown Los Angeles, will in turn be theatrically presented to unfold before your eyes within the context of an exotic "Victorian Circus".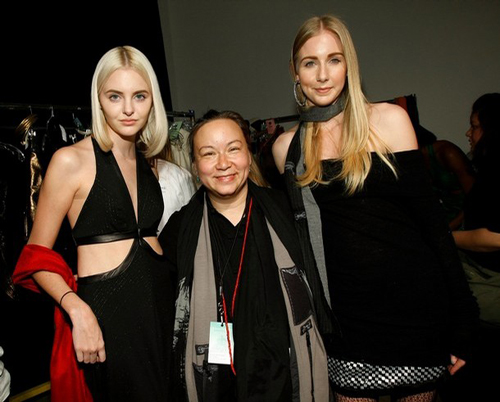 Maggie Barry will not be alone on this stage. The show carries on with a virtual tour de' force of key
players. Maggie Barry Co. has collaborated for the first time with Jacob of Shoes for the Stars to
create signature footwear. As well, hats are designed with Mark Mieja from Baron Hats. Integrated
into the show are fine jewelry pieces from brilliant|AD by Alexander and You MacBeth by Flynn.
Shown as a separate vignete: Barry/Savage, a line of voluminous and ethereal goddess dresses will
make it's debut representing a design collaboration of Maggie Barry and fashion stylist Cory Savage.
Premiering that evening will also be a "green/eco responsible" luxury t-shirt and denim line branded
rock paper scissors a division by AD directed by designer Alexander. Beautifully crafted functional
scarves by Bernt Kuhlmann for XUBÁZ [xü-bazz] will be presented too.
Maggie Barry Co.: maggiebarry.com An emphasis on the romantic is echoed in each interactive coupling of fabrications and style. Delicate pastels, gilded with silver is descriptive of the baby soft linens as well as the supple leathers used in this concise group of jackets, vests, skirts and shorts. The silhouettes shadow the references of the gentrified Victorian to the baby-doll-like Gibson girl. With linen offering a crisp edge to the bodices, it too, will encompass refinement, ease and comfort. Tux's and Tails prevail in the jacket area as bubble safari shorts and sculpted pouf skirts hold center stage. Accompanied with the somewhat pomp and circumstance attitude of it all, will be detailed vests of all sexy shapes, cuts and styles. The leather ruffles, lace insets and contrast-in-color stitching details accentuate the haberdashery attitude of a sepia-toned, soft-summer-breeze filled season. For evening, liquid metallic jersey in shimmery pastels flow from starlit spots of rhinestones on short cocktail halter dresses and long, empire mermaidens. "Morning Coffee" slinky and funkadelic jogging suits, make a "don't mess with me yet" attitude in pretty pastels in easy, billowy separates. Dramatic voile' jackets, vintage kimono fabric cover-ups and sculpted creations in tulle and chiffon are worn with asymetrically-detailed, leather spliced pants with power-net panels, denim, lacing and
corsette details.