Mercedes-Benz Fashion Week Swim 2010, produced by IMG Fashion, made its biggest splash ever as it concluded its 5th and largest showing of Resort and Swimwear Runway shows at Miami Beach's Raleigh Hotel. Press, buyers and celebrities from around the globe previewed, photographed, reviewed and applauded the 2010 Collections.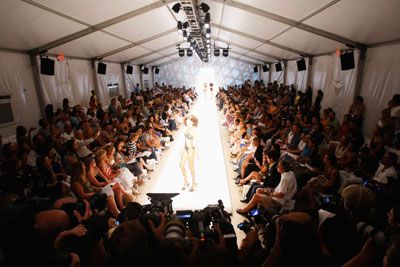 The week began with Bohéme Boutiques' poolside presentation and the official kick-off party. Over 12,000 attendees enjoyed the five days of shows from Mercedes-Benz Fashion Week Swim newcomers Caffé Swimwear, Marysia Swim, Crystal Jin, Aqua Di Lara, Mercedes-Benz Presents Designer: L*Space by Monica Wise, Tori Praver Swimwear, Mara Hoffman, White Sands Australia, Vitamin A and V Del Sol. Returning designers included Tibi, Red Carter, Cia.Marítima, Xtra Life LYCRA®, Luli Fama, Ed Hardy Swimwear, Poko Pano, True Religion Swimwear and ANK by Mirla Sabino.
This seasons front row regulars from the world's leading press, media corporations and retailers, were joined by celebrities Nicole Trunfio (Make Me a Supermodel), Perry Reeves (Entourage), Gilles Marini (Sex and the City), Kelly Killoren Bensimon (Real Housewives of NYC), Adam Greggory (90210), Whitney Port (MTV's The City), Olivia Palermo (MTV's The City), Roxy Olin (Brothers & Sisters), Paige Sreenan, Ariel Stein, Anchal Joseph (America's Next Top Model), Dina Manzo (Real Housewives of NJ), Jason Kennedy (E!), Catt Sadler (E!), Bravo's Miami Social Cast Members, Jeff Donovan (Burn Notice), Jessica Rivera (Former Miss Latina Central Florida), Brooklyn Decker (Sports Illustrated Swimsuit Model), Gretta Monahan, Jagged Edge, among others!
"Mercedes-Benz Fashion Week Swim has become the industry's premier platform to showcase Resort & Swimwear collections from around the world," said Christina Neault, Sr. Director of Fashion & Brands at IMG Fashion. "We are so proud of all of our designers who participated this week with glamorous, sexy and saleable collections. They have made this our largest and most successful event yet."
"The success of this season's Mercedes-Benz Fashion Week Swim provided the perfect backdrop to showcase our newest vehicles," said Lisa Holladay, Brand Experience Marketing Manager at Mercedes-Benz USA. "The event draws a diverse group of people within the fashion community and beyond and it was great to see them embrace the design and styling of the all new E-Class sedan and coupe"
This season's Mercedes-Benz Presents Designer, L*Space by Monica Wise, raised awareness for OmniPeace, through a special capsule collection shown as part of her runway show on Friday, July 17. The collection was created by L*Space to benefit OmniPeace, a humanitarian fashion brand.
Connecting with the vibrant looks seen on the runway, the Mercedes-Benz Star Lounge in the historic Raleigh Hotel was the result of collaboration with Eric Villency, President and CEO of Maurice Villency. The design embraced Art Deco motifs and utilized splashes of rich purples and oranges inspired by the natural light and color palettes of South Beach. During the week, the Star Lounge was the destination for celebrities, VIP's, press and Mercedes-Benz customer guests.
Beyond the Star Lounge and the runways, three of the newest editions in Mercedes-Benz's own collection were presented, the 2010 E350 Coupe and the E350 Sedan in front of the main tent and on display poolside for the first time in South Florida, the 2010 E63 AMG.
This season Mercedes-Benz Fashion Week Swim also introduced its first interactive application. Now, fashion afficionados who couldn't be poolside or at the runway can get their front row access to the hottest swimwear shows directly on their iPhone or iPod touch. The Mercedes-Benz Fashion Week Swim application is available now for just $0.99 in Apple's App Store,and features demand video highlights and photographs from each of the designer shows and presentations