Miami, FL (June 26, 2008) – A wave of new talent come ashore at this season's Mercedes-Benz Fashion Week Swim for the first time. From Australia to Brazil, the UK to the US, fifteen diverse designers will work the runway at our industry's most respected and well-known swimwear event.
Mercedes-Benz Fashion Week Swim 2009 Collections will be held July 18 to 21, 2008  in Miami, with a kick off event on July 17.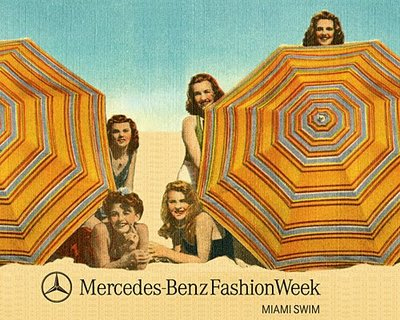 "Mercedes-Benz Fashion Week Swim is the leading platform for designers to showcase their collections," said Senior Vice President of IMG Fashion, Fern Mallis. "This season, designers from around the globe have recognized Miami as the destination to debut their new looks."
Mercedes-Benz Fashion Week Swim brings together fashion insiders, buyers, celebrities and VIPs to create one of the most distinctive events in the swimwear industry, providing a unique platform for designers to showcase their collections. This season's attendees will see shows from Red Carter, this season's Mercedes-Benz Presents designer, Cia.Marítima, ANK by Mirla Sabino, Zimmermann, XTRA LIFE LYCRA®, Diesel, ViX Swimwear, Tommy Bahama, SYLA by Sylvie Cachay, Ed Hardy Swimwear, Pistol Panties, Luli Fama and Poko Pano. Custo Barcelona and tibi will be launching their first-ever swimwear collections.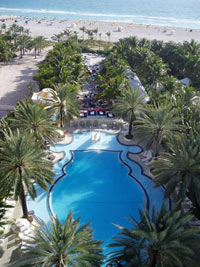 "This is the most important show specialized in swim and with 2009 being our largest swim collection ever, this is the perfect setting to launch it," said Custo Dalmau, Custo Barcelona.
"We've waited to introduce swim until I had a very strong, clear and unique direction. While the market has a variety of great offerings, I wanted to create a selection of patterns immediately identifiable. You won't mistake my suits for any other designers" says tibi owner and creative director Amy Smilovic.
Mercedes-Benz Fashion Week Swim will once again be at Miami Beach's historic hotel The Raleigh, July 18-21, 2008, with all three venues accessed via an event lobby on Collins Avenue at 18th Street. The Cabaña Grande, the Beachway and the Oasis venues all feature the outstanding production elements and amenities for designers and media that are the hallmarks of IMG Fashion events.
via: IMG Fashion.