Schooled By Anisha Lakhani: Ever wonder why the rich kids always seem to get into the best schools? It's not from staying up late at night studying. From writing book reports for 11 year olds to reading Shakespeare for college students, tutor Anna Taggert learns that these privileged kids spend their nights instant messaging while she is doing their homework.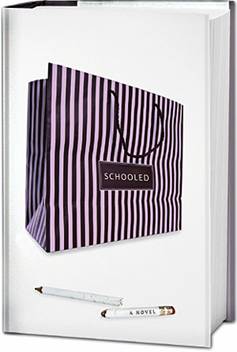 Anisha Lakhani's debut novel will have you begging to get Schooled. The fantastic page turner set in the world of Manhattan's elite private schools is "Gossip Girl" inside the classroom. Author Anisha Lakhani, a former English teacher, gives readers a glimpse into the lives of today's most privileged teenagers. School isn't all about Chanel handbags & boyfriends… only if you have a tutor doing your homework!
A liitle about Schooled By Anisha Lakhani: When Anna Taggert lands a teaching job at an elite private school on Manhattan's Upper East Side, her dreams of chalk boards and lesson plans are quickly dashed by the grim realities of her small paycheck. It's not easy to overlook the fact that tuition for each of your students exceeds your annual salary or that your students dress better than you do, but this earnest young Ivy League graduate does her best.
And then comes the discovery that the papers she grades are not the work of her seventh graders, but of their high-priced tutors. Before long, Anna too is lured into a world where paying for the best that money can buy takes on a whole new meaning. Enticed by the prospect of earning more in an hour than she takes home in a day, Anna becomes a teacher by day and a tutor by night, joining the ranks of those who secretly do the homework of the children of affluence.
A delicious debut based on the author's experiences as a tutor while teaching at one of Manhattan's top private schools, Schooled presents a shocking picture of an underground economy that is altering the landscape of education in every way. This dazzling exposé lays bare the tutoring industry in a way only an insider can.
Welcome to Schooled, where even homework has a price.