From Bosnia to Milan to Los Angeles Kao Pao Shu by Naida Begeta opens flagship store in Los Angeles, California. The address: 7227 Beverly Boulevard, LA, CA 90036.
Hollywood, CA Monday, July 7th, 2008: Designer, Naida Begetaquickly made a name for herself and her Kao Pao Shu collection in her native country of Bosnia. With her innovative designs, intricate craftsmanship and use of stripes and ribbons, it was not long before word of her talent and designs reached Milan and Tokyo and finally to LA.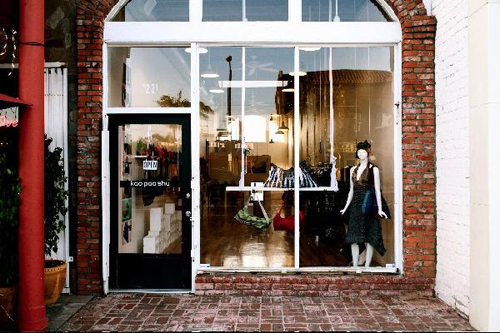 For Naida, the process of design is not only about dressing ones body in curve hugging clothes that make the wearer feel sexy and comfortable, it is about the exploration of fabric and textures. Naida redefines the use of ribbon by sewing together yards of ribbon, which ultimately become the fabric for her handmade creations.
Continue reading Kao Pao Shu by Naida Begeta Opens Flagship Store in Los Angeles