From Bosnia to Milan to Los Angeles Kao Pao Shu by Naida Begeta opens flagship store in Los Angeles, California. The address: 7227 Beverly Boulevard, LA, CA 90036.
Hollywood, CA Monday, July 7th, 2008: Designer, Naida Begetaquickly made a name for herself and her Kao Pao Shu collection in her native country of Bosnia. With her innovative designs, intricate craftsmanship and use of stripes and ribbons, it was not long before word of her talent and designs reached Milan and Tokyo and finally to LA.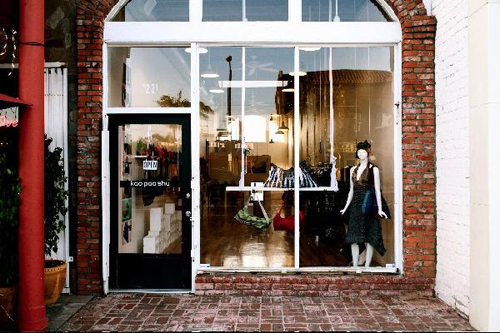 For Naida, the process of design is not only about dressing ones body in curve hugging clothes that make the wearer feel sexy and comfortable, it is about the exploration of fabric and textures. Naida redefines the use of ribbon by sewing together yards of ribbon, which ultimately become the fabric for her handmade creations.
About the shop:Walking through the doors of Kao Pao Shu, you feel as though you have entered a tony boutique in Soho. With it's raw interior, Kao Pao Shu is similar to a gallery space. The 1100 square foot loft space features high ceilings and exposed brick walls to set the stage and highlight the movement of the Kao Pao Shu collections.
Just about any day of the week, Naida will be there to greet you, offer you a glass of champagne and show you her one-of-a-kind creations.
About the collection: Stripe Up Yourself: This collection made from ribbon and stripes includes dresses, jackets, pants, handbags, belts and more. It is an exploration and transformation of the original 2D form of stripes and shapes. Each piece is defined in different organic and geometrical forms with the result being no two pieces are identical. The collection is not subordinate to any trends, but it presents the ongoing exploration in the materials itself.
Dress Up Yourself:This collection of shirts, dresses, tee shirts and pants are created from the highest quality jersey however what makes these so special is they are printed with Naida's original black and white drawings, which gives a new, and individual meaning to this line. The simple yet imaginative patterns and graphics lend a unique style and elegance to the garments making the wearer feel natural and not overdressed.
The Kao Pao Shu collections and store are named after Director-producer Kao Pao-Shu who is best known for directing Kung Fu cinema. She began her career, as an actress and was known for the strong-willed roles that made her one of the more distinctive character actresses of the 1960's. In 1971, she made her directorial debut "Lady With A Sword" starring Lily Ho.
Naida felt the name Kao Pao Shu had a unique rhythm to it, but just as importantly the person Kao Pao Shu being known for her strong willed roles was indicative of the collections sprit.
About Naida Begeta: Naida Begeta was born in Sarajevo, Bosnia and Herzegovina on July 17th, 1980. In 1992, war broke out in her homeland and in 1995, Naida left Bosnia and enrolled in Olympia High School in Washington as part of the Fellowship of Reconciliation project. Upon graduating in 1997, Naida returned to Sarajevo and enrolled in the University of Sarajevo, Academy of Fine Arts, department of Product Design. During this time, Naida also was the collaborator for the Sarajevo Film Festival. In 1999, Naida became the assistant curator for the Sarajevo Center for Contemporary Arts (SCCA), which focuses not only on the local art scene but introduces foreign artist and projects in Sarajevo.
While working with the SCCA and attending college, Naida launched a line of handbags that would eventually become the STRIPE UP YOURSELF signature items. She joined forces with Irma Saje and Vanja Ciraj and established the Kao Pao Shu collection. The trio also worked together styling fashion editorials and films in Sarajevo.
In 2004, Naida graduated from the Academy of Fine Arts at the top of her class and took over the Kao Pao Shu brand completely. Living between Sarajevo and Milan, Naida established a name for herself, and the Kao Pao Shu brand in the thriving Milan fashion scene.
In 2006, Naida married Marco Schillaci, the Italian based commercial director, and the two decided to start their life in a new city. The couple moved to Los Angeles in November of 2007 and currently resides in Santa Monica, California.