Hot Beach Bag Trends: Katherine Heigl Hearts Juicy!
It's officially summer and the beach is a-callin' your name! Every Bagista needs a great beach tote to schlep a towel, trashy novels, water bottles, and SPF. This week Bag Trends Expert Pamela Pekerman dishes on the hottest bags celebrities are toting on the beach!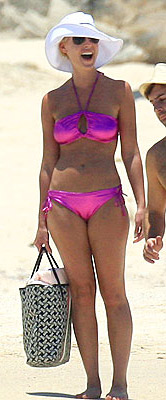 Katherine Heigl in Juicy Couture Premier Canvas Tote.
Grey's Anatomy star Katherine Heigl was recently spotted in Mexico with the Juicy Couture Premiere Canvas Tote ($225, in the world of handbags, that's not too bad).