Hot Beach Bag Trends: Katherine Heigl Hearts Juicy!
It's officially summer and the beach is a-callin' your name! Every Bagista needs a great beach tote to schlep a towel, trashy novels, water bottles, and SPF. This week Bag Trends Expert Pamela Pekerman dishes on the hottest bags celebrities are toting on the beach!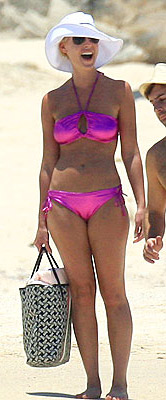 Katherine Heigl in Juicy Couture Premier Canvas Tote.
Grey's Anatomy star Katherine Heigl was recently spotted in Mexico with the Juicy Couture Premiere Canvas Tote ($225, in the world of handbags, that's not too bad).
The size is just right and the stripe adds the perfect accent to the signature Scottie dog print. A detachable mesh pouch keeps your keys and other trinkets together. The PVC coated tote also comes in two other colorways in case you want to coordinate with your swimsuits. Just don't forget the sunscreen, girls!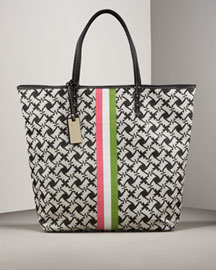 Other Juicy Couture fans include Eva Longoria Parker, Reese Witherspoon, Kate Hudson, and Liv Tyler.
You can read full article in bagtrends.com!, an online magazine founded by style expert Pamela Pekerman.
Pamela also has her own bag blog called: "My Bagalicious Life".
For more information on the hottest beach bag trends tune into Pamela's recent segment for Better.TV.