Melania Trump to debut QVC Collection. Timepiece and jewelry collection scheduled to debut April 30, 2010.
International jetsetter, model and entrepreneur Melania Trump thrives on the cultural diversity of the three cities she calls home: New York City, Paris and Palm Beach. Inspired by the bustling arts, architecture, design, and fashion scenes that surround her at every turn, the Slovenian, aqua-eyed beauty decided it was time to bring those inspirations to life…and a new collection was born.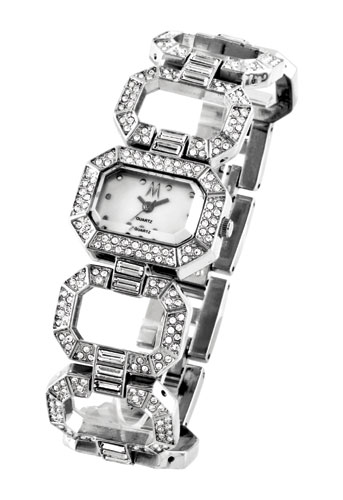 Timepieces & Fashion Jewelry by Melania Trump: "Champs-Elysees" from Paris collection
The worldwide debut of Timepieces & Fashion Jewelry, designed especially for QVC, is scheduled to be unveiled Friday, April 30 at 9:00 PM (ET). Each piece in the collection will retail for less than $200.00, offering style and luxury at a consumer-friendly price.
"I am thrilled to work with QVC to bring my personal inspiration and design aesthetic to life," says Melania Trump. "I'm proud to debut my collection of premium, affordable timepieces and jewelry and make it available to millions of women across the country. Now women everywhere can add a touch of luxury to their everyday lifestyle!"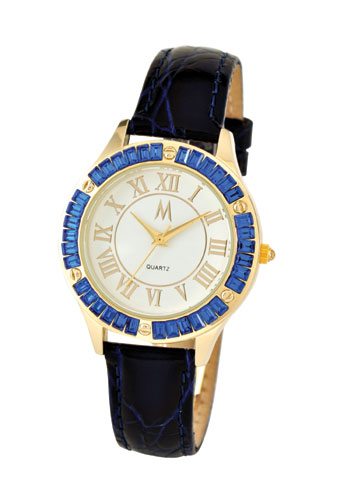 Timepieces & Fashion Jewelry by Melania Trump: "Ocean Blvd" from Palm beach collection
Each sparkling timepiece and jewelry piece is designed with versatility in mind – for work, play or a night out on the town. The timepieces are inspired by the energetic streets of her favorite cities. In the New York Collection, the "Fifth Avenue" watch includes genuine mother-of-pearl dials, princess-cut crystals and a signature design bracelet. In the Palm Beach Collection, "Ocean Boulevard" watches feature mother-of-pearl dials, European crystals and crocodile embossed genuine leather straps in classic black and brown in addition to rich jewel tones. The sparkling Paris "Champs-Elysees" timepiece is glamorous and jewelry-inspired while featuring mother-of-pearl dials and European crystals. The jewelry collection is as versatile as Melania's lifestyle, with bold, chunky chain necklaces for a casual day of shopping on to sparkling statement pieces for red carpet events in Paris.
"We are excited to bring Melania's exquisite collection to QVC," said Debra Puzio, director of merchandising for QVC. "Each piece is as stylish and stunning as Melania and I believe that her personality and aesthetic will truly resonate with our customers."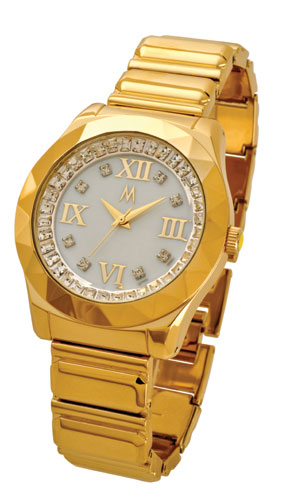 "Timepieces & Fashion Jewelry by Melania Trump: Fifth Avenue" from the New York Collection
"My collection will offer women across the country an exclusive peek in to my personal life", says Trump. "My passion for design, fashion and beauty is reflected in each piece of my New York, Palm Beach and Paris collections. These are the cities that I call home, and I have been intricately involved in the creative process of every design."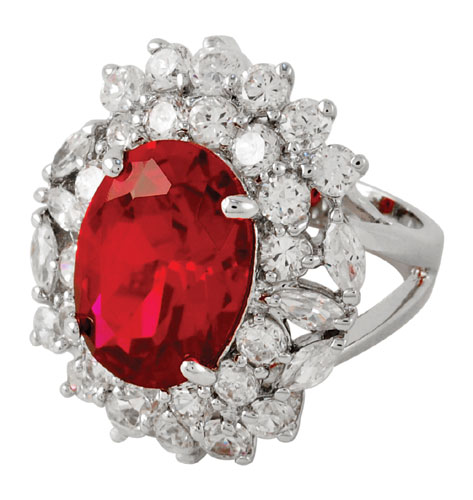 Timepieces & Fashion Jewelry by Melania Trump: Ring (image above) from the Paris collection. Comes in Large Prong Set Oval Ruby Color Crystal or Large Prong Set Oval Sapphire Color Crystal.
Timepieces & Jewelry will range in price from approximately $30.00 to $200.00 and is scheduled to be available starting April 30 through QVC at 1.800.345.1515 or QVC.com, while supplies last.
For more information please visit: www.melaniatrump.com
Become a fan on facebook by visiting: www.facebook.com/melaniatrump